After getting your unit added to Edgeview, most customers are looking to maximize the function from their Edgemarc. The easiest way to do this is having it monitor a SIP server.
Once this is completed, you will be able to get detailed call stats in Edgeview, view a list of clients in Edgeview, take packet captures as needed, as well as other functions.
Generally a common deployment is to have your phones positioned behind the LAN of the Edgemarc. The Edgemarc then routes this traffic out to the hosted SIP provider/switch/PBX.
Please keep in mind that this article is only going over general setup. You will need to make tweaks and adjustments as needed to get this working correctly with your provider.
To accomplish this setup please follow the steps below.
1) First, you will need to log into the GUI of your Edgemarc, and navigate to VoIP --> SIP. On this page you will be able to define your SIP server or a list of SIP servers. The Edgemarc has the ability to failover between servers in the case that connectivity to one server drops.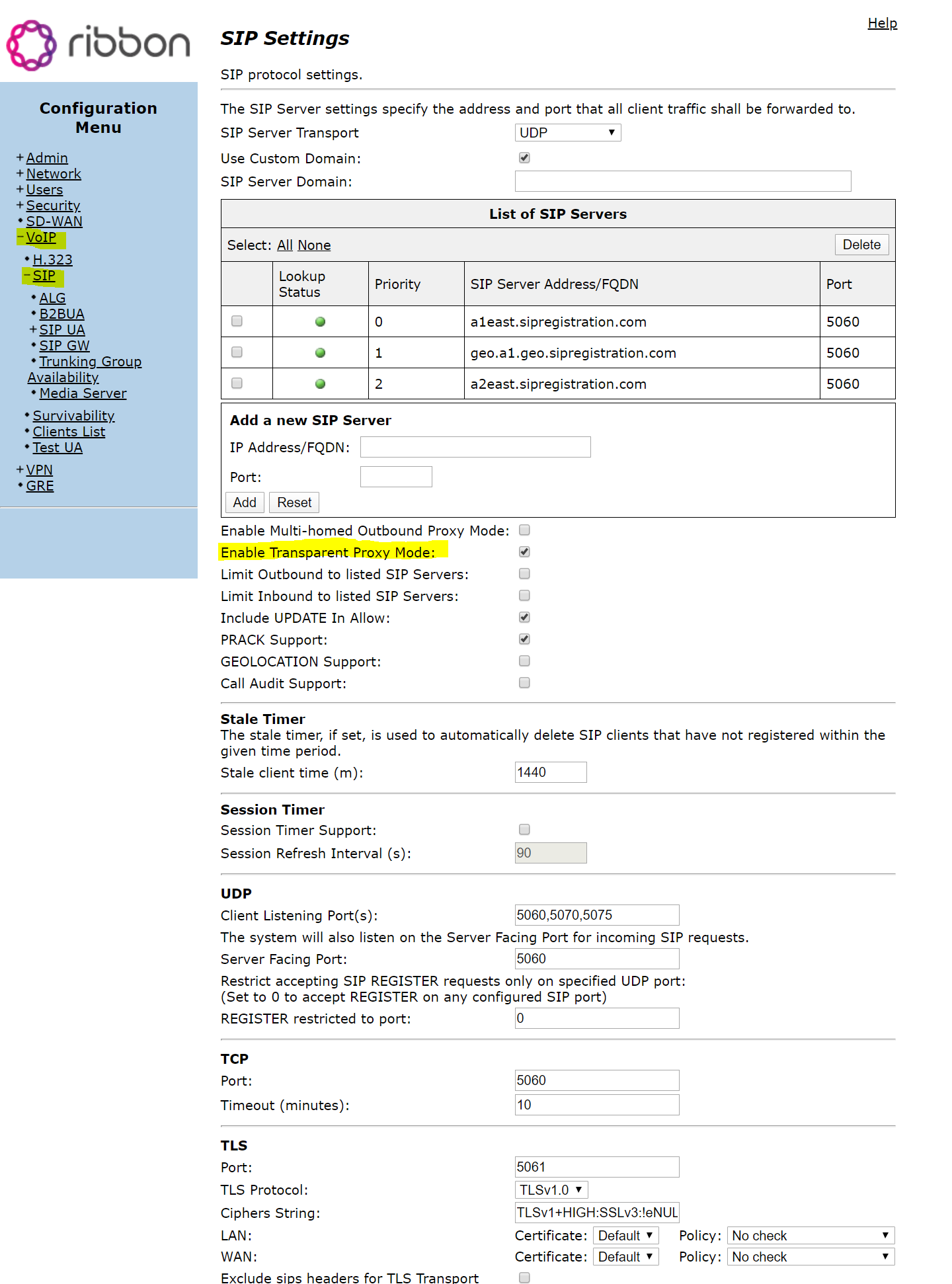 Additionally, the easiest way to roll this out quickly is to enable transparent proxy mode. What this setting does is it tells the Edgemarc to "look for" any registrations that are coming in from the VoIP phones and if they match what is in your list of SIP servers, it will "proxy" that traffic and be able to monitor that traffic. This is not always useful for all deployments but is the easiest way to get started.
2) You may need to adjust settings on the survivability page. Even if you are not using the survivability settings, I have ran into issues with the rate pacing settings causing the Edgemarc to think that it has lost connectivity to a SIP server when in fact it is still up and active. Below is an example of known working setup of this page but again you may need to tweak these settings for this to work in your environment.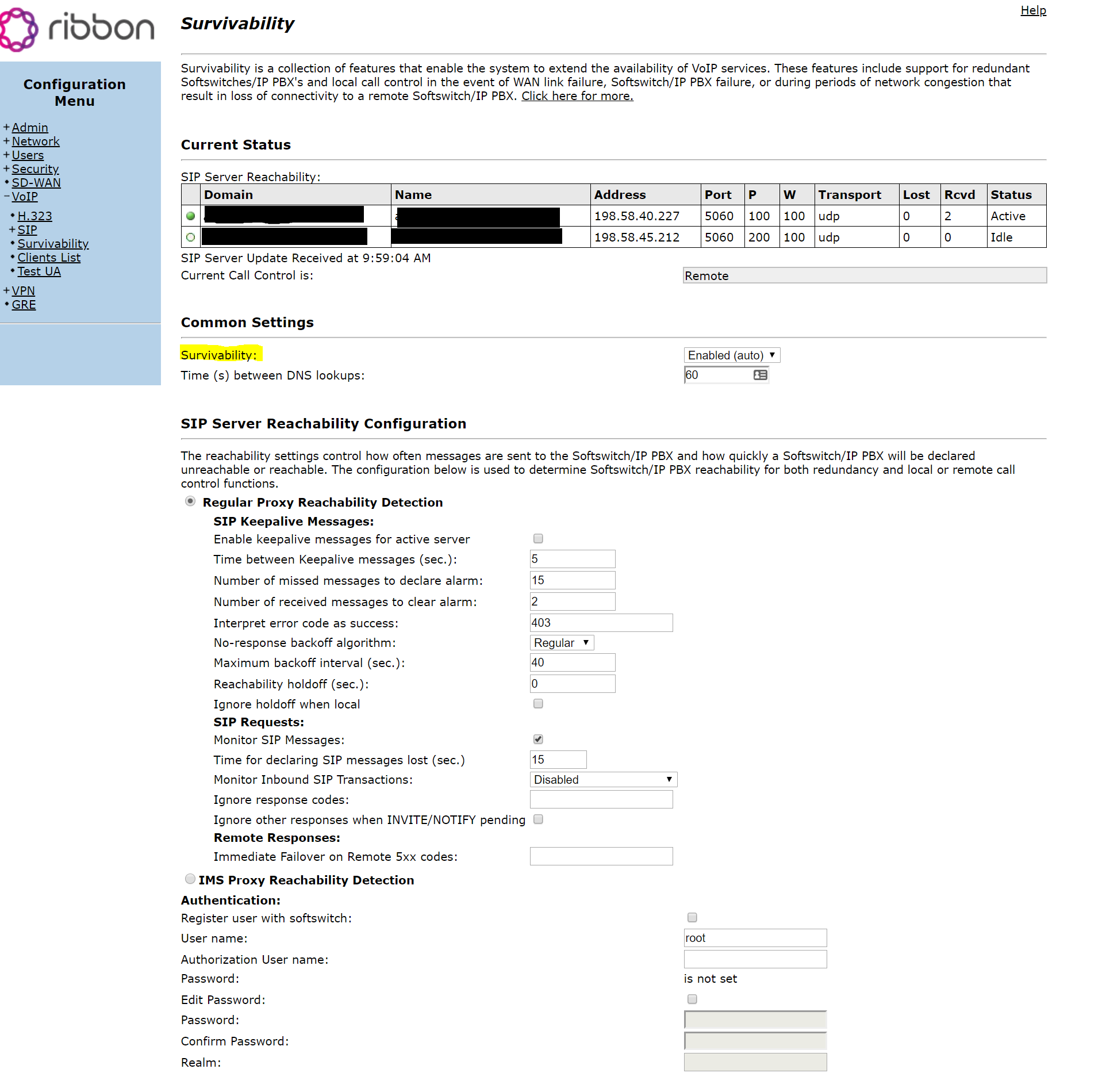 3) Once this is complete, you should be able to start to see the benefits of this setup. The first place you can check is the clients list under VoIP --> Clients list. This should begin to populate with all extensions behind the LAN of the Edgemarc that are reaching out to the defined SIP server.
4) Back in Edgeview, the first thing we are going to want to do is run a health report. This will query the Edgemarc for clients in its clients list and help populate Edgeview with this information. Navigate to your actions dropdown bar and select Run Health Report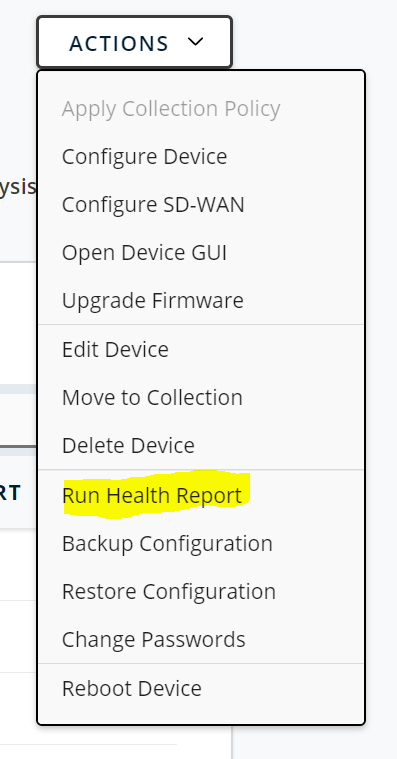 This will take a moment to complete.
5) Navigate to the inventories page as pictured, you should now see a list of clients that are behind the Edgemarc populated in Edgeview.

This page will list all devices as well as provide the capability to access device GUI's that are behind Edgeview. This can be done by selecting the phone icon highlighted above.
6) Other functionality that will now be available includes the ability to see the active SIP server status as well as other servers the device is monitoring. This can be done by clicking the highlighted option on your device overview page.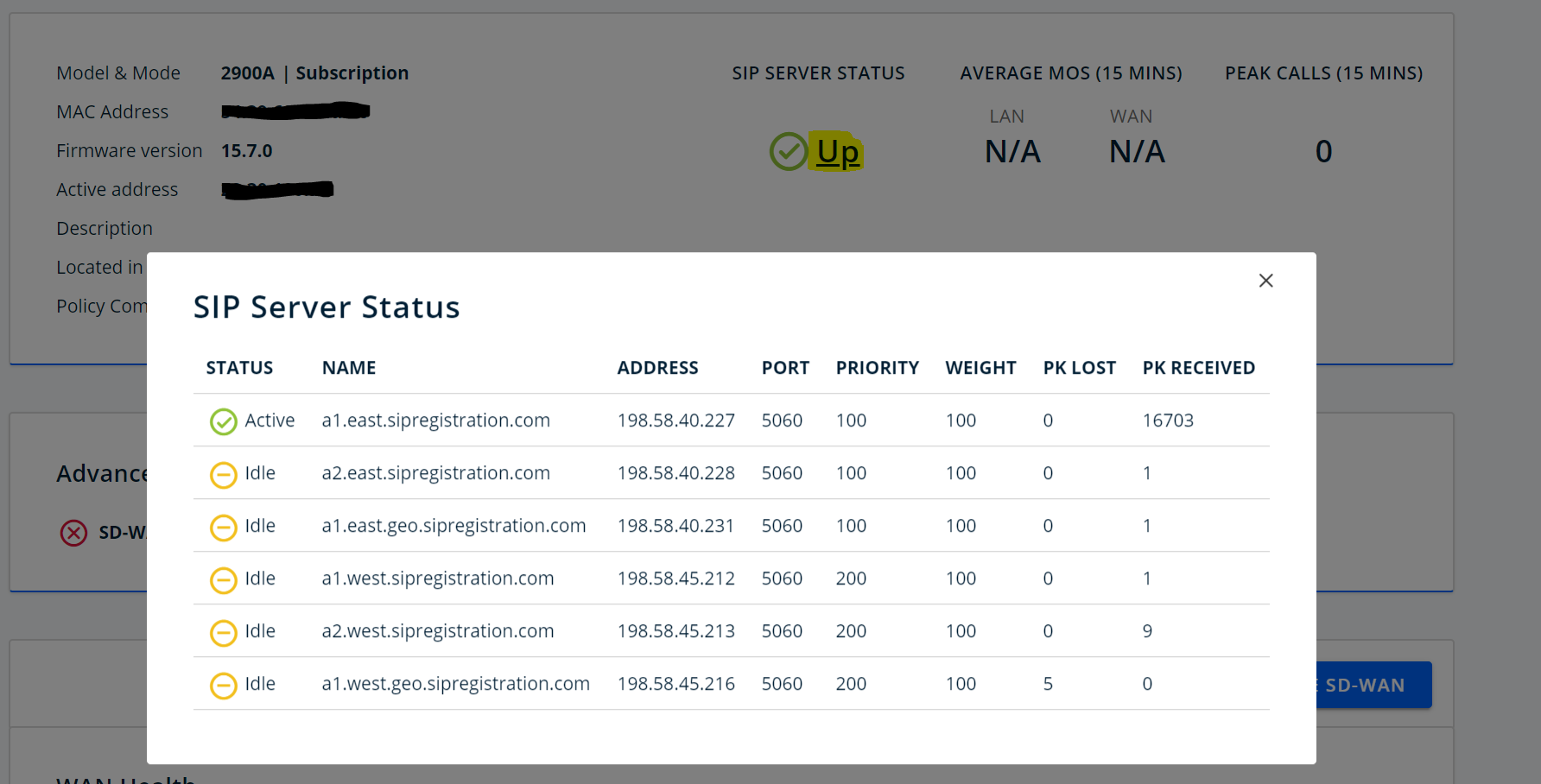 7) Another page of interest is the analysis page. This page will allow you to get MOS scoring for any calls that went through the system. As well as view a detailed SIP ladder for that call right within Edgeview. You also have the ability to run a diagnostic packet capture for up to 48 hours to help track down any lingering issues.
a) Below is an example of the MOS view. You can click where highlighted to bring up a SIP ladder for the requested call.

b)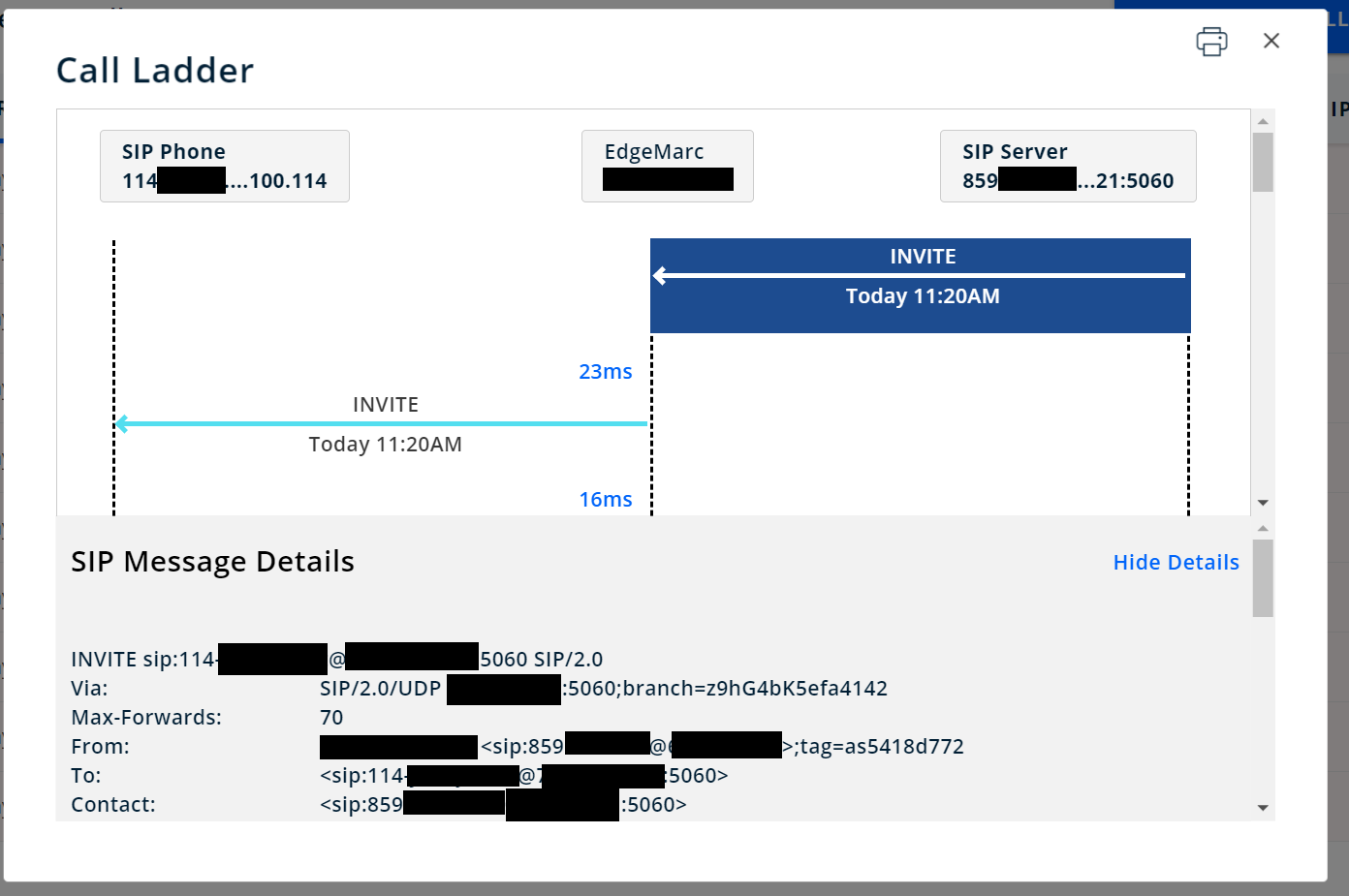 c) Additionally, you can run a packet capture if more detailed information is required.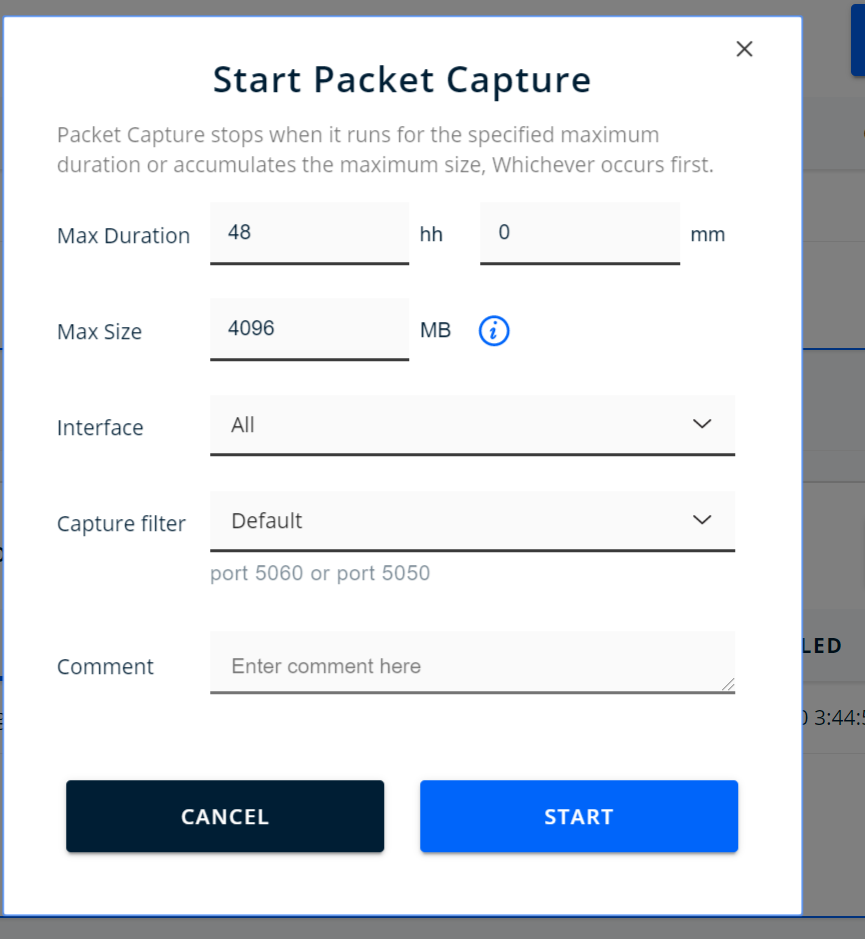 There are many other things that Edgeview can do for your units. This article went over very basic configuration in order to get information populated in Edgeview. If you have more advanced configuration requirements or questions, feel free to drop a ticket in to the support center and we will see if we can assist.