3CX allows for fairly simple configuration of SIP trunks within its web interface. CloudCo Partner is one of the supported SIP Trunk providers and thus 3CX has a base template that you will be able to utilize in setup. Prior to setting up your SIP Trunk it will have been assumed that you have set your 3CX server up at a static IP address, as both 3CX and Bandwidth require this to utilize their services.
First, navigate to the SIP Trunks tab on your sidebar and look for the add provider button located within. This is highlighted below.
When you select this you will be presented with the following screen.
Here you will want to select your provider for the country you will want to select US from the drop down menu and finally for the provider you will want to select Bandwidth.com. Finally, you will have to enter your main trunk number here before you can continue. Go ahead and select next and you will be presented with the following.

On this page you will need to fill out the Registrar IP address where it says to check 3CX Bandwidth documentation. This will be set to 216.82.227.214.  If you scroll down you will also see additional information such as routing for the main number. This will be more of a fallback if you are using multiple DID's. If you are only using the main number then you can set your routing here. Go ahead and navigate to the DID tab.
Here, you will want to enter any additional DID's that you have associated with your account. Please note that 3CX generally likes DID's in the form of +1xxxxxxx. E.164 formatting is required for SMS and our recommendation for DID entry.
Go ahead and proceed to the next tab. Here you will be able to define the default caller id for your SIP trunk. By default this will only be used when a caller id has not been specified on the extension level. Please note that this has to be a number. If you enter a name in this filed your caller ID will appear as Unavailable/Unknown when you make an outbound call.
Finally, on the next tab you will see default options that are set when you pick Bandwidth.com as your provider. By default you should not have to change these, however in some cases you may need to enable the "Supports Re-Invite" and "Supports Replaces" options. These situations can very and in most use cases do not need to be enabled. The one thing that can be set is the alternative proxy. You can set this to 216.82.224.117. This is an alternative IP address that call traffic can route to. 3CX will automatically failover to this if a call fails to the 216.82.227.214 address that was set as the primary.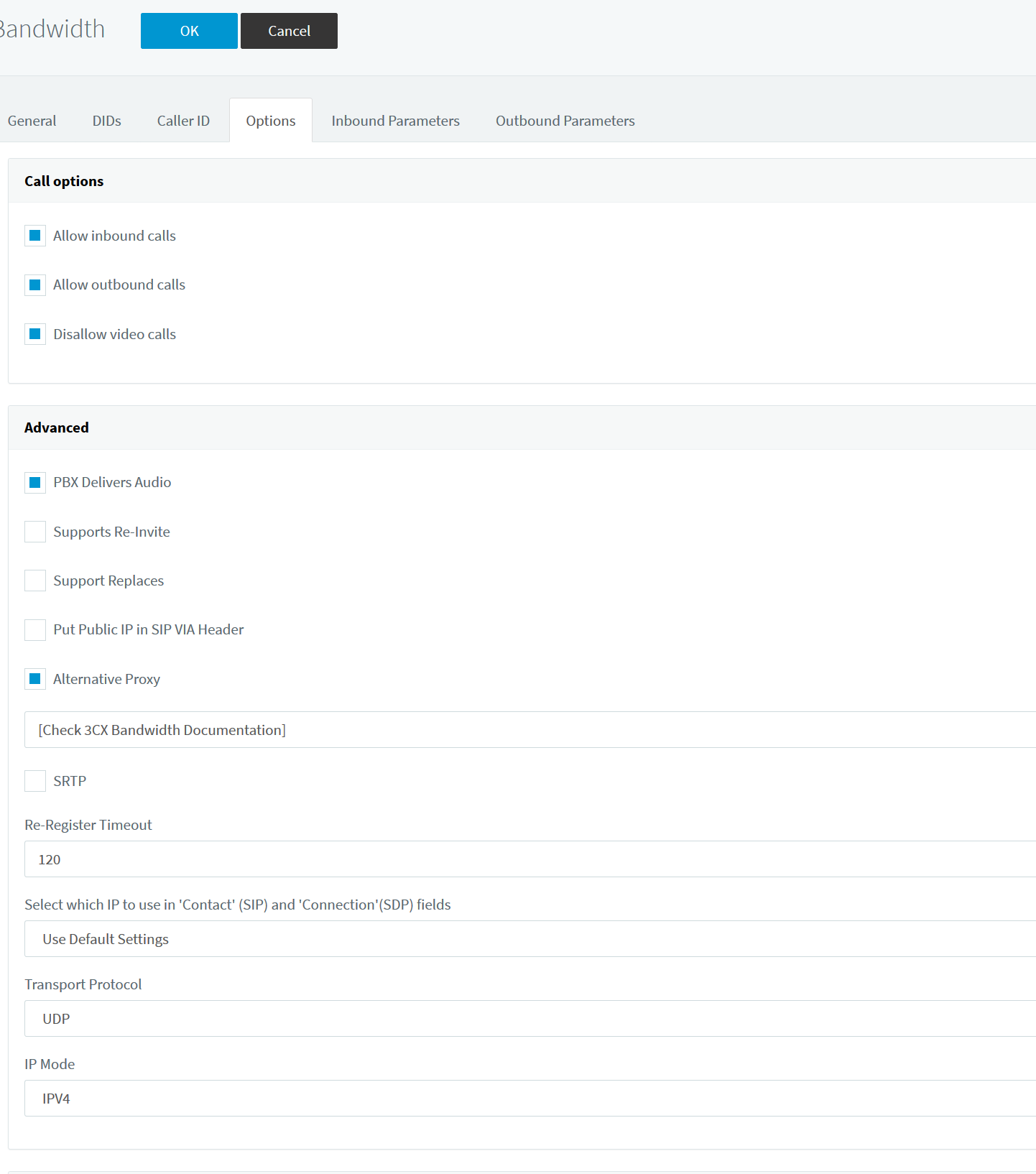 Some other things to take note of, by selecting the Bandwidth.com profile the settings for outbound parameters and inbound parameters should be correct. As shown below, the default setting for "CallerNum" is using the FROM field which is supported by Bandwidth. They do also support the usage of Remte-Party ID as well as P-Asserted-Identity.
Once that is complete, you have done the basic steps to add your CloudCo Partner SIP Trunk to 3CX. However, there are some more steps that will need to be taken to have full functionality of your system. In it's current state, all calls will only be routing to your default destination and you will most likely not be able to make outbound calls. On the side bar you will see two options that we need to take a look at, "Inbound and Outbound Rules".
Select Inbound Rules. Here you will be able to designate any number of options for your various DID's that you defined in the earlier stages of adding your SIP trunk. Select Add DID Rule and you will be presented with the screen below. Here you can select which DID you are trying to set a rule for as well as how that DID is going to be routed in your system. This is all up to preference but will need to be done to get your system routing how you would like.
Finally, let's select Outbound Rules. You will need to create a rule if you would like to be able to dial outbound. There are many number of rules and combinations that you can create here, however, pictured below is a simple 7,10,11 rule to use CloudCo Partner as the trunk. This will send any input of 7,10 or 11 digits out via your CloudCo Partner trunk. Please note that it may be the case that you need to prepend area codes in order to have proper 7 digit dialing. This will be down to personal preference in order to fine tune your system to where you need it.
Once those are complete, your system should be setup to allow inbound and outbound calls via your CloudCo Partner trunk. Any additional settings will be down to personal preference and will need to be fine tuned in order to get your system functioning fully as you desire.